Alaska Bound
A photo log of the trip taken by Norman and Clarice Gregory June/July 2000.
OVERVIEW: On June 16, 2000 Clarice and I started north from Horseshoe Bay in Vancouver Canada aboard our 26 foot MacGregor 26X hybrid sail/power sail boat. On July 14th we met up with my father in Skagway, Alaska. He and a family friend had pulled the boat's trailer up from Everett, Washington with our truck. On July 15th we pulled the boat out of the water and pulled it to Whitehorse, Yukon Canada and put it into storage. We then drove up the Alaska Highway and toured the interior of Alaska from Anchorage to Prudhoe Bay. After touring the interior we headed south and after taking the boat from storage returned to Everett.

We have had a number of people ask us about the trip and have planned for the past year to gather memories and photos together for those who would enjoy following in our steps in reality or vicariously. This page is the start of that log.


Section 1: On the Water - Canada
BACKGROUND: Clarice and I have dreamed of going up the inside passage for a number of years. During late winter/early spring 2000 we made the decision to make our dreams a reality. We prepared and over prepared for several months until we actually launched the boat on June 16.

THE BOAT: Our boat, Cassiopeia, is a 26 foot MacGregor 26X that we have owned since July of 1995. MacGregor 26 X's are a popular boat in the Northwest as they are a hybrid sail/power boat. That is, they are sailboats with a hull that allows them to move along at up to 18 knots with a 50 hp outboard motor. In this part of the country it is common to have wind and lousy weather or complete calm and sunny weather and in either case the topography of our waterways makes wind come and go from minute to minute. With these prevailing conditions a boat that can both sail and move along without wind gains popularity.





Cassiopeia

We were advised be the local sages that our boat was too small for the journey. We looked for a larger boat but ended up deciding to go with the vessel that we knew best. We decided to modify Cassiopeia as best we could and we knew that we could put her on her trailer and tow or ferry her home if things got out of hand. (It turned out that she was completely adequate for the trip and we had few problems).

Modifications we had made to the boat prior to the trip included adding a diesel heater/stove, larger fuel tanks, adding a good quality VHF radio, adding a GPS, and improving creature comforts with better lighting, firmer cushions, etc.. Modifications we made for the trip included adding an auto pilot and a radar.

STARTING OUT: We had previously sailed the waters east of Vancouver Island as far north as Comox so we decided to travel as quickly as we could past that point and then settle in for the trip. The northern most point that we could enter the section of the inside passage that we wanted to explore without taking a ferry was Vancouver, British Columbia at Horseshoe Bay. By putting in at that point we saved several days water travel over waters that we have been on many times before. A friend rode up with us in our truck and then pulled the trailer back to where my dad would later pick it up. We ended up launching on a negative tide. The end of the boat ramp wasn't even in the water and a local boater warned us of a drop off . We got the boat safely into the water and the trailer safely but in the confusion, sadly, no one took a photo.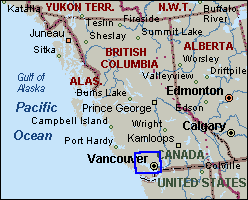 Map #1

We spent our first night in the little town of Gibson's after sailing in rough water around the east side of Bowen Island. Our log book mentions that we found a leak in the cabin top and fixed it and met another couple in a 26X and had tea with them.

On day #2 we motored north and gave "Auto" our autopilot his first major test. We were very impressed and quickly decided that he had been a worthy addition. We failed our VHF radio test and by the end of the day decided that my "reliable" antennae connections had corroded over the years in the salt water (one of the few things that I had felt confident about and didn't check before the trip). We hoisted our emergency antennae into the rigging so that we could broadcast if we needed to and traveled 59 nautical miles to a small cove in the Copeland Islands just south of the town of Lund and the entrance to Desolation Sound. We also established the 4 NMile/US gal fuel usage baseline that we would use for our calculations the rest of the trip.

The cove was too small to even look significant on our charts and was not recognized in our guide books (which tend to cater to boaters with much larger motor yachts) but on the advice of a local boater we slipped in past the submerged rock in the entrance and had the island to ourselves. Something felt very strange to me until I realized that I simply wasn't used to complete (peace and) quiet.





Norman testing the pfd

While running a line to shore Norman slipped on a rock and demonstrated that the self inflating life vest work as advertised.


(NAUTICAL MILES AND KNOTS: My landlubber friends are always wondering why we boaters are determined to use nautical miles and knots rather than statute miles / miles per hour (or kilometers/kilometers / kilometers per hour. Since there aren't roads on the water navigation must be done using latitude and longitude. Since one nautical mile is equal to 1 minute of latitude it is very easy to make the conversions and most boaters use these standard measurements. A knot is one nautical mile per hour.)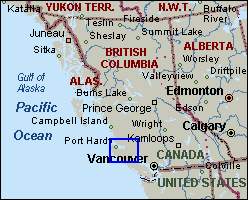 Map #2
On the advice of guidebooks we decided to avoid Johnstone Strait as long as possible. Instead our route took us east of Johnstone through a number of smaller passages. The first challenge was getting through Yaculta then Dent Rapids. The plan was to get through Yaculta on the slack of June 18 and then stop at Big Bay resort to take on fuel and possibly tie up for the night. We wandered around the resort for a bit and then decided to go ahead and go on (the locals indicated that we should still have enough time to get through Dent rapids before they gained too much momentum. So much for local advice; the current was moving at about 7 knots by the time we pushed through. I was glad that we had plenty of horsepower but was sure we were going to drain the fuel tanks before we made the next gas dock at the rate we were going.





Spirit of 98

After passing through the rapids we tied up in the lee of a small island to take a break our of the wind and foul (against us) current. We watched as the Spirit of 98 mini cruise ship stopped to give its guests a change to observe the rapids. This would be the first of many encounters with this particular ship. At one point we hailed the crew on the VHF and had a pleasant discussion about the history of the vessel with them.


(RAPIDS AND CURRENTS: If you are from non tidal areas you may be wondering about rapids and currents that come and go. In parts of the Inside Passage the tidal fall (difference between high and low tide) can be as much as 14 feet. Since that can mean that billions of cubic feet of water spill in and out of passages twice a day it can create currents as fast as 13 knots. If a fast current goes through a small and often shallow opening then a tidal rapid forms. Most of the time we traveled with 2-3 knot currents with us or against us. If we needed to go through a passage with known fast currents or rapids then we consulted our current tables and planned to pass at a favorable time (in some cases the rapids can ONLY be traversed at "slack" times).)
We spent the night of June 18 at Blind Channel Resort. The resort was a going concern at one time but is now pretty much in disrepair. We sat and passed the time with the new owners who hoped to have the resort back up and running before the main flow of cruising boats showed up the next week or two. I asked about getting dinner there. They thought through the inventory of the freezer and made some suggestions all of which they guaranteed would, "have plenty of good old artery clogging cholesterol". Clarice pointed out that we needed to use our perishables before they perished so we ate on the boat. We were beginning to appreciate the laid back attitudes of the locals who live along the Inside passage.




Captain Clarice

We could no longer avoid Johnstone Strait and moved into the northern end of it on June 19. We later learned that while we had enjoyed fairly pleasant weather there had been a full gale in the Strait the past several days. When we entered Johnstone Strait proper the wind was from the north and the current from the south. We trudged through the 4 to 6 foot waves in our full rain gear and put into Alert Bay. I had heard the Alert Bay Canadian Coast Guard radio for years and was surprised to find out that the town is primarily an Indian village.

All of the locals in Alert Bay made sure that we planned to visit their cultural center before we left. Not wanting to insult anyone we followed their advice and did so. I've never appreciated the magic that is the Northwest Indian mask until I stood in a darkened room surrounded by original masks dating back hundreds of years with the smell of cedar wood in my nose. It was as if the dances would start at any time and the spirits would come to life. I suggest this stop to anyone who gets in the area.




Alert Bay


Alert Bay Government Docks

We stayed in the government harbor while in Alert Bay as we would in most of the villages and towns we would visit. We could tie up for a very reasonable cost and get some of the local flavor by doing so. I was able to find a new coax cable for the VHF and so we dropped the mast long enough to hook it up and ran the wire outside of the mast with plastic wire ties.

On June 20 we motored the short distance to Port Hardy - the last major town we would visit for some time. We had a real fish and chips dinner then prepped the boat for the dreaded crossing of Queen Charlotte Sound. We had been told and had read that if we would have trouble it would be when we were exposed to the wind and ocean swells from the west, the currents from Queen Charlotte Strait from the south, and the currents from Fitz Hugh Sound from the north in Queen Charlotte Sound. We lashed our dingy to the deck, made a last check of the VHF and radar, and stowed everything in its proper place in the cabin in case the weather got rough.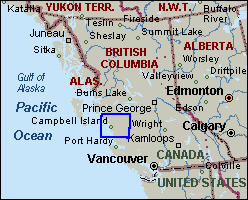 Area map #3

On June 21 we awoke at 5:30 am in anticipation of the day to come. We listened to the marine weather report to see if it would indicate that we should wait another day (as another boat in the harbor choose to do). The report was for fair weather with possible gales (really - I'm not exaggerating). It seems that in this part of the world the weather is so fickle that the weather service is virtually at a loss to predict even 12 hours in advance. We finally decided that as it was calm where we were so we would put our nose out into the Sound and see what our own eyes told us.






dawn on the water

The water was the glassy smooth and the color of Black onyx with gentle ocean swells.
Kwakume Inlet

Clarice wrote in the log that day, "....everything going so well we decided to keep going. Entered Kwakume Inlet to find beautiful solitude."

School of porpoises
On June 22 we had just reentered Fitz Hugh Sound and noticed a strange "wave phenomenon" on the water moving rapidly towards us. Eventually we could make out porpoises with our binoculars - at least 50 of them. They porpoised through the water in roughly a line across a good portion of the waterway. We just sat in awe as they moved past our boat as if we weren't there. We have never figured out if they just travel from place to place with this behavior or if they were perhaps herding some kind of food before themselves.




Bella Bella Totem Pole

We stopped for fuel in Bella Bella and then moved on to another idealic anchorage bay for the night.

Klemtu passage


First Nations Village of Klemtu

We motored the next day to the village of Klemtu and after filling our fuel tanks tied up for the night at the village dock. I walked up into the village and eventually ended up at an official looking building on the hill at the far end of town. Seeing that there was an event taking place I started to head back down the hill when I was invited in to "a graduation going on". The following excerpt is from the email diary that I kept on the trip: ....
.
They had already 'graduated' the kindergarten (the little boys in there finest white shirts, red bow ties and red cumber buns; the girls in dark purple rayon dresses with native art designs silk screened on them) and were having a community feast. There were two graduates from 12th grade. One was a native girl who had dropped out of school then decided to return as an example to her son (one of the kinder grads). The other was a Caucasian girl (the principal's daughter) who had grown up in the village, knew the language and been fully accepted as a band (tribe) member. What struck me was that the WHOLE village had turned out for them! When they received gifts of beautiful native blankets I understood why someone would choose to live here - I could imagine them feeling lost and alone some day, and wrapping those blankets around themselves and feeling that the entire village was there to support them.

After the graduation ceremony one of the village council members joined us for popcorn on our boat and talked about the local culture and customs.


click for detail map
Butedale waterfall


Butedale sunset

We would spend the next couple of days traveling through "reaches". Long, arrow straight passages that go for miles. We couldn't find a really well protected anchorage so we settled for the cove in front of the old Butedale cannery which is now falling into the water. We fell asleep to the sound of a large waterfall after swimming then enjoying a beautiful sunset.


Fraser Reach


Drying seaweed on the boardwalk in front of the Harley Bay Church

On June 25 we made a slight detour from the main route to take on fuel in the Indian village of Hartley bay where Clarice was fascinated by the women drying seaweed on the boardwalk in front of the village church. I was fascinated with the boardwalks that served as the streets of town since the only low spot to build on was a bog.




Spinnaker Run

After motoring into the wind we finally had a tailing wind in Grenville Channel and broke out the Spinnaker. We spent the night in another quiet cove and I dove in with my SCUBA gear and came up with 3 crabs. We kept making notes in our log book about how late it was light outside. We fell asleep long before dark and woke up after dawn as we moved ever nearer to the land of the midnight sun.

June 26 we traveled through the fog (thanks to the radar) into the "big city" of Prince Rupert - our last Canadian port of call. While at the dock we met a couple from Washington who had previously done blue water sailing and a couple from England.


Dundas Island cove


New found friends

We met up again with our new found friends in a cove at the top of Dundas Island. They invited to a dinner of fresh caught fish and told us stories of their world travels. We were entertained by an Eagle that swept so close to their boat that we could hear the wind through its wings when the fish entrails were thrown overboard.


click to go to next section
EXIT